Welcome To The

Desert

Ya All
Everything

 Is Changeable, Everything Appears And Disappears; There Is No Blissful Peace Until One Passes Beyond The Agony Of Life And Death.

Buhhda
Tracking Here And There. Boots On The Ground. Cocked Locked Ready To Rock.
In Our Environment, Minds On Super Hyper Nano Mission Tick To Tock. Our Purpose Defined, Hard Stamped In Granite.
Then It Happens.
Mission Complete. Back To The World. Our Beloved Country And Home.
We Look Around.
Baffled And Lost.
The Very Civilians We Put It All On The Line For. 
Steeped In The Comfortable Slant Of Fat And Happy.
Needle Buried All The Way To The Right In The Constant Whine And Complaints.
Lost In The Division And Hate Of Their Thankless Existence, Spouting Forth Hate, Blame And Regression At Our Country.
Clueless As Clueless Can Be To The Very Freedoms Afforded To Them. Opportunities Abound. But Oh The Hell No.
Lost In The Divisive Political Unrest And Oh So Buried In The Fog Of Propaganda Aimed From This Side Or That.
That Which Only Accomplishes The End Of The Road, Leading To The Path That Leads To The Freeway Of Self Implosion, While Our Enemies Watch In Delight Waiting For The Ax To Fall.
A Free Republic Brought Down Like An F16 Fighter Jet Catching A Surface To Air.
Nothing But Hate And Disrespect For Each Other.
For Us.
Those Who Have Stood Tall And Served Without One Single Question Asked.
Proud And Honored To Keep It All Safe For Those Back Home. Commanding The Utmost Respect From Our Fallen Enemies.
Not At All Looking Anywhere, For Any Kind Of Acknowledgement, Recognition Or Benediction. Just Doing Our God Directed Jobs.
For Us.
Our Up Close Personal Is That Of Walking Around The Zoo, Witnessing Spieces Who For The Most Part Appear Alien.
Our Government Fucking Us Over At Every Curve And Straight A Way.
Unable To Perform The Very Jobs They Were Hired To Do.
Instead Lost In The Greed And Irresponsibly Of Moving Up The Chain. Dereliction Of Duty A Cyclopean Upgrade.
People Whose Lives Have Been Spent In The Comforts Of Freedoms That A Mass Global Populous Can Only Dream About.
American Civilians Who Never Stepped Out Of Their Comfort Zone Of Their God Given Freedoms, While Around The Globe, In The Most Horrid And Desolate This Planet Has To Offer, 12 And 13 Year Old Children.
Wielding AK-47's Just To Make It Through Another Day.
Feel Me? So Far?
Humans Living In Such Abject Poverty, That Daily Sustenance Is A Far Lost Forgotten Dream.
Following Dictum And Decree, That If One Utters A Sliver Of A Syllable Of Complaint And Disagreement, They Straight Up Smoke.
While Americans Sit Around Their 60 Inch Flat Screens Digesting Pizza, Hagen Daaz And Dolly Madison Pies, Complaining And Hating.
Having Served Our Country.
Now Ready To Virtually Start Over From Scratch To Build Ourselves A New Life.
Lied To. Scammed, Shamed To The Point Where Nothing Makes Any Logical Sense.
Honored And Proud Individuals To A One. Driven To A Level Of Dis Connection Beyond All Earthly Human Words. WTF!!!
Stranded At The Corner Of Disillusion Avenue And Whats The Point Boulevard, Our Only Solution.
A Kill Round To Our Heads. ShhhhhWham.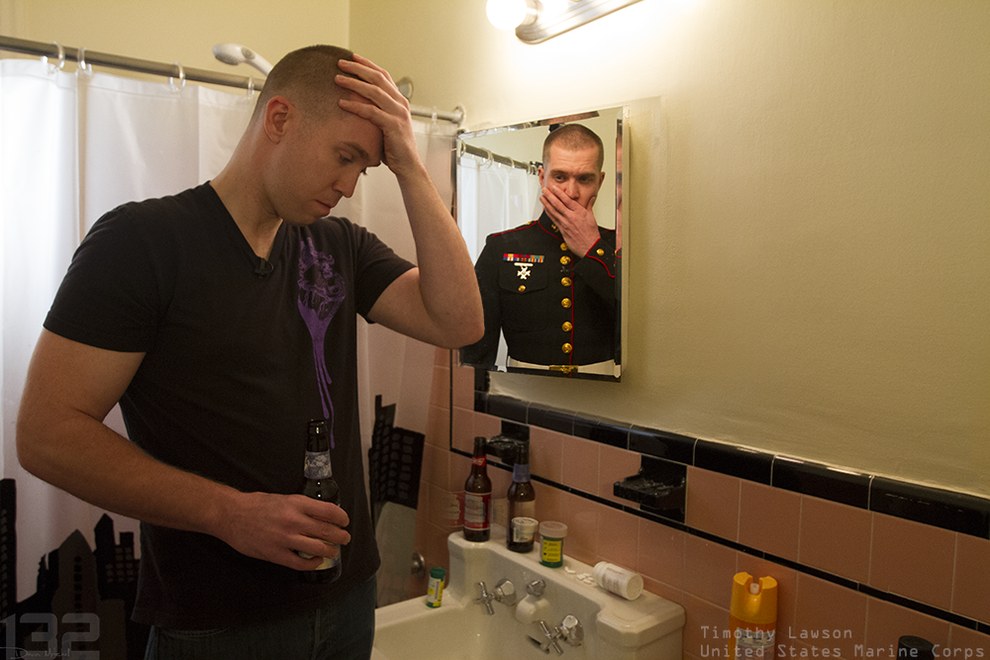 I Am Distressed, Sickened And Besides Myself. The Texts. The Calls.
"LT., Max Is Gone Sir. He Fragged Himself".
"Jimmy Went And Did It LT. 45 Round Through His Head. Found Him In His Car".
Or
"Damn LT., James Leaped Off A 400 Foot Cliff".
On And On And And Muthu Fuckin On.
Fuck!!!
Just Like Every Cluster Fuck With A Shit Storm Float, There Is That Thin Peek Thru Of A Single Light Of Sun-shines Bright White Light.
Brother's.
Paleeze!!!
Before You Squeeze.
Find That Nano Click Of Reason.
Call This Number.
800.273.8255
Veteran Crisis Suicide Hotline

.
These Beautiful, Courageous, Dedicated Individuals Will Stay On The Line With You For How Ever Long It Takes For Total Resolve. They Will set You Up With Many V.A. Services On The Spot, Send Someone To Check On You Or Transport You To The Hospital And They Will Call You Back To Check On You.
You Can Tell Them Anything In Any Way You Feel You Want To Express Yourself. Cuss Words Not One Damn Muthu Fuckin Problem.
Let It Rip Soldier.
The
Lt. Begging Ya All.
I Get It.
Strung Out On Severe PTSD.
Un Earthly Night Terrors.
The Pitch Black Deep Deep Dark Dreams.
I Get It!!!
Been There.
Done That.
Own The Fuckin T-Shirt Factory.
Tehhhhh.
One Corner I Just Can't Stray Far Da Fuck Away From.
At Least, Just Give These Guys A Call.
Cause 'I'm Gonna Tell Ya All One Thing For Sure.
I Know This To Be The Truth.
You Smoke Yourself.
You Coming Back To This Lower Earth Whelm Of Insanity In A Much Worse Off Life.
Trust Me On This.
In The All Of It,
This Ain't Nothing But A Thang.
Feel Me? So Far? Soldier.
Cause I Gotta Tell Ya All, Lt. At His Very Thin Last Strand Regarding Any More Texts And Phone Calls Alerting Me To A Lost Man And Another Brother Down In The Senseless Mess Of It All.
And Marines, Now I'm Specifically Talking To You For The Fact That I Know Who WE Are.
Follow This Vapor Trail If You Will.
Several Years Ago I Was Down In Yuma, Arizona Visiting A Friend Who Worked At Marine Air Base Yuma.
My Friend, Ms. Abagayle Worked On Base In The Capacity Of A Psychotherapist. Now Retired.
We Were Walking, Talking And Chilling In The Desert. Quite Possibly She Saw Something In My Eyes.
She States To Me;
"You Marines Are Not Right, In The Way Of How You Think, Perceive And Analyze Situations. I'll Extrapolate. You Could Be In A Ferocious Fire Fight. Your Rifle Jams, You Run Out Of Ammo. Your Assault Knife Broken. You Find A Stick On the Ground, Your Good To Go. Un Stoppable. Then At Some Point In Your Life, For What Ever Reason, You Decide You Have Had Enough."
At This Point In The Conversation, Abagayle Thrusts Her Arms Up In The Air, Fashions Her Hands Into The Shape Of Pistols. She Then States;
"Then You Get To This Point Where You Are Saying, Watch This, Fuck You. Bammm".
And
"Your Overwhelming Pride And Chiseled In Stone Attitudes Of 'I Got This' And Hard Headed Reluctance Fueled By Your Immense Pride Forbids You Guys To Reach Out And Ask For Help, That Jarhead Attitude Of Invincibility. Damn Stubborn Jarhead's.
So, My Brothers, Reach The Hell Out And Dial This Number;
800.273.8255
Veteran Crisis Suicide Hotline.
That's A Direct Gentlemen.
Cuz I Gotta Tell Ya All.
LT. Running Out Of Tears And Sorrow.
And
Just Damn Tired Of Attending Senseless Funerals.
Feel Me? So Far? Jarheads?
Phewwwwww!!!
Ya All Killing Me.
One Last Thing.
LaBron LaBron LaBron.
Left To Right. Up To Down. All Da Hell Around.
LaBron This. LaBron That.
What LaBron Do?
What Cha All Want from LaBron???
LaBron Is Great.
He Steps Out On The Wood, Ready To Play.
The Very Absolute Best That He Got.
Playing Hard 1st To Last.
Basically On His Own, Alone.
So Damn Alone.
His Team Mates No Where To Be Found.
Laid back.
Polite.
A Real Gentleman.
As Humble As It Get's.
Just Out There Doing His Thing.
Yet.
Broadcasters All Up In The Comparison Slant. Michael Jordan. Coby Byrant. Scotty Pippin. Just On And On And On. WTF???
Are You All So Bored You Just Can't For The Lives Of Yourself Find Something Else To Run Yak About.
Game Number Three, Celtics.
Fourth Quarter.
LaBron Is Pulled Off From The Paint.
Playing So Damn Hard All By Himself.
He Is So Damn Dehydrated, Transcending Electrolytes And Wanting Still To Go Back In.
Ya All Leave LaBron The Hell Alone.
Just Give This Great Athlete His So Deserved Props And Creds.
Yeah.
If All Of The Above Was Not Enough.
LeBron James Walks Out Of Press Conference After Repeated J
.
R
.
Smith Questions

.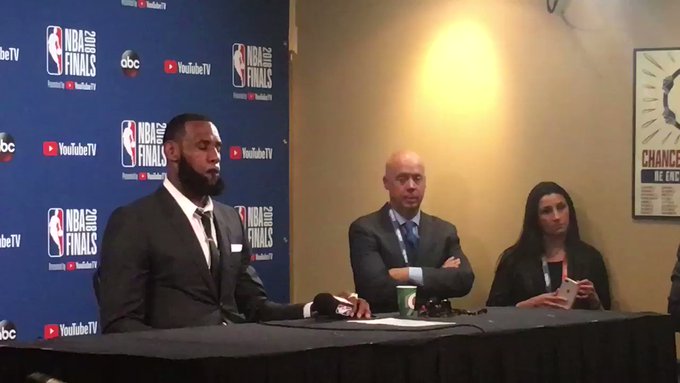 Brought To You By "thebiglead.com"
LeBron James was unbelievable during Game 1 of the NBA Finals, but it wasn't enough. Despite scoring 51 points, grabbing eight rebounds and dishing out eight assists, James' Cleveland Cavaliers lost to the Golden State Warriors in overtime. After the game, LeBron didn't have time for your stupid questions.
During his post-game press conference, James had to answer questions about J.R. Smith's incredibly bone-headed play at the end of regulation. He claimed he didn't know what Smith was thinking. Then, he was asked again, this time from ESPN's Mark Schwartz and here's the exchange:
Schwartz repeatedly asked the same question James had already answered. I would have walked out too. Some are saying that on the way out James said, "be better Mark," or, "be better tomorrow," though there have been several interpretations.
LeBron gave what was already a decent press conference and answered every question, but a reporter kept trying to get him to say something about his teammate's mental state during a key play. James just wasn't going to go there, and he shouldn't have to.
Schwartz didn't get the answer he wanted, so he kept needling. It was an unprofessional move by him. The fact that he works for a league partner in ESPN and LeBron James walked out because of his questions will almost certainly be an issue for him. Someone is going to give him a talking to.
The Last Thing.
If You DO NOT Want To Get Hacked.
Read The Following. The Safest Way To Access This Sight Is FireFox.
My Search Engines Of Choice;
DuckDuckGo / StartPage / FireFox / Ghost
Yeah.
I'm Done.
That's All I Got.

Desert

Love

Ya All

Ryan

.

Out

.

2019 Mercedes Benz 560 Coupe

   Sittin On Chrome
The Absolute, Only Way, To Communicate With Me Is:
Ryanindaswamp@hotmail.com
To My Ten's Of Thousands Of Readers World Wide.
Thanks For The Read, The Best Of The Most Beautiful Best Of Homies.
Desert Love Ya All
Da Swamp Back To The Beginning. WordPress 2012 On Up
Ryanindaswamp / Man In Da Street. 2012/01/28 — 7 Comments. Cocked. Locked. Ready To Rock. Bringing It. Like Dis America. Me and Mine. We Stand As …
The Google Blogger Days. 2014 Up Thru 2016
ryanindaswamp.blogspot.com/2014_05_13_archive.html
May 13, 2014 – Seemingly this blog is that forbidden candy your Momz told Ya All to stay …. Before the end of 2014, China will have become the world's largest …