Google Executive Was Poisoned By Prostitute On Yacht, But Did They Both Have Secrets To Hide

?
07:00, 28 Jun 2015

By

Gail Shortland
He was a successful, married businessman and she was a model. Both were hiding something, but only one would survive…
Just moments earlier, businessman Forrest Hayes had greeted a woman on to his luxury yacht with a hug. Now she was stepping over him as he lay dying on the floor, trying to hide any evidence that she was even there.
Police watched the security footage in disbelief as the woman wiped down surfaces and gathered up the contents of her handbag. She even paused to finish her wine before pulling down a window blind and slipping away.
It was an incredible breakthrough. The police had a video showing the moment Forrest died, but what they didn't know was the one thing he had in common with the woman who had been the last person to see him alive: secrets.
Keeping secrets
Forrest, 51, was successful and rich. Back in his home town of Michigan he'd started off in the car industry, but had moved to California to work, and by 2013 he was a highly-paid executive for Google.

Forrest Hayes
Forrest had been married to his wife, Denise, for 17 years and they had five children together. They lived in a $3 million house in Santa Cruz and his prized possession was a 46-foot long luxury yacht called Escape, which was moored down at the exclusive Santa Cruz harbour.
Escape was just as its name suggested – the way that Forrest got away from it all, and he'd spared no expense. It was kitted out with a $200,000 high-tech security system and even the captain's chair cost $8,000. But the boat was more than just a place to relax. Forrest was a man who had made a living from keeping secrets at work, but he had plenty in his personal life too.
On 26 November 2013, Forrest went out on his yacht alone – and didn't return. His worried wife asked a member of their crew to go and check on him. When they boarded the Escape, they found Forrest dead. His family were devastated.
Injected, left alone
His obituary read: "Forrest will be remembered above all as a loving husband and father… he enjoyed spending time with his family at home and on his boat. His brilliant mind, contagious smile and warm embrace will be missed and cherished."
However, there was an injection mark on Forrest's arm. He'd died from a heroin overdose. It was enough to tarnish his image, but with the discovery of two wine glasses at the scene, the police wanted to investigate further.
Before long they found out that Forrest had a profile on a dating website called Seeking Arrangement – a site designed to match wealthy older men or women with 'sugar babies'; younger members looking for partners with money.
Police knew that Escape had security cameras, but it took three months and a court order before they were allowed to watch it. When they did, they viewed Forrest's death in astonishing detail. There was no sound, but what happened was clear enough.
Forrest greets a dark-haired woman with tattoos on her arms. They hug and she starts preparing the heroin that she's brought with her. The woman injects herself while Forrest looks on nervously. Then she injects him.
Facebook
Alex Tichelman, 26
Almost immediately, Forrest slumps forward in his chair and falls to the floor. The stranger tries to revive him by shaking him, but Forrest is unconscious. Instead of calling 911, she starts to wipe away her fingerprints from surfaces she's touched.
She collects up the drugs and steps over Forrest's body for seven minutes as he lies dying. As she finishes her last sips of wine, any chance to save Forrest has slipped away. Once the window blind is pulled down to hide the body from passers-by, she leaves.
But the distinctive tattoos on her arms proved her downfall. Police easily found her profile on the same dating website Forrest was on.
She was 26-year-old aspiring model Alix Tichelman. Police set up a fake profile and tried to arrange a potential date and lure her in. It became clear that Alix was a high-class prostitute, so they had to agree to a $1,000 fee before she would meet.
Eight months after Forrest's death, Alix appeared at the prearranged luxury hotel with heroin in her bag, and was arrested. She was charged with prostitution and murder, and held on $1.5million bail.
Alix quickly captured the imagination of the US press. Like Forrest, she'd also been leading a double life. While her friends and boyfriend believed Alix was a model, she was actually making her money by sleeping with rich men.
Alix had come from a good family, but she had fallen into the wrong crowd and developed a drug habit. By her early 20s she was working as a stripper and posing in provocative self-portraits online. She had turned to prostitution to pay for her addiction.
The public were divided on whether Alix was to blame for Forrest's death – some thought because he was willingly injected, Alix wasn't responsible, and they'd met a few times before as consensual adults. But the fact remained she'd walked away when a man lay dying.
Her defence team told police that Alix had simply panicked. They were on the verge of a trial when there was another twist. In May this year, Alix pleaded guilty to involuntary manslaughter and administering drugs. She was shackled and wearing red prison clothes as she mouthed 'Hi' to her parents who stood by their daughter.
Through lawyers, Alix explained the guilty plea was to save her family from a trial. '"We want to convey a sincere apology to the Hayes family," they said. "This was an accident and a panic, and she is so, so sorry."
The prosecution said Alix was guilty of leaving Forrest to die. "She was the only one who could have rendered help and she failed to do so, and instead took liberties to destroy evidence and to make her getaway," they said.
Alix was sentenced to six years, but with time spent she's likely to serve just two. After the sentencing, it was revealed that Forrest's family never wanted Alix charged. A trial would have forced them to hand over more footage from the yacht, potentially causing more embarrassment.
It seems Escape will continue to keep Forrest's secrets.
So.
There
Ya All
Have It.
Jus
Another
Day
At
Google

.
The
Dead
Google Executive
And
His
Whore

.
Just
One
More
Google
Criminal Story
Now
Down
In
Da Books.
Oh?
There's
More
Diabolical
Bad
Bad
Bad
Enterprising
Google

Executives
Doing
Bad
Bad
Thangs
And
Drug Trafficking?
"Oh My!
Say
It
Ain't
So
Mr.
Swamp

".
"Slappy My Man.
It
Is
So
So
Very So".
Google's CEO Dealt Drugs and Knew It, Say Fed's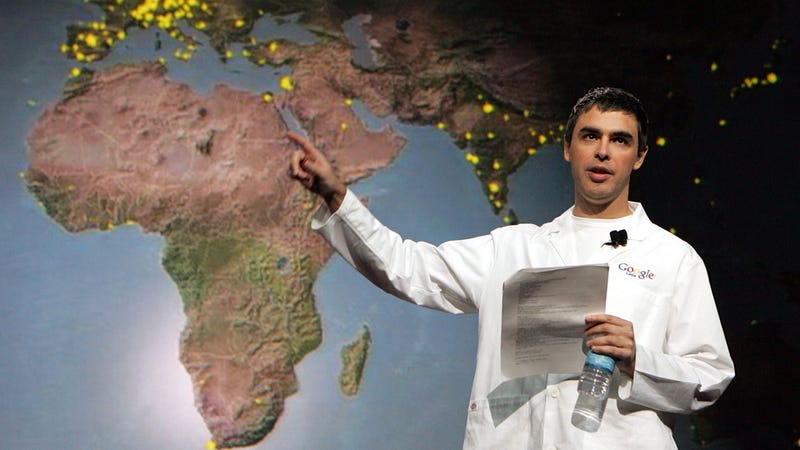 Well, this is certainly interesting: Google's CEO Larry Page knew all about ads his company ran for an illegal Mexican drug ring run by a convicted con artist and described in detail to Google executives. But the advertisements for illicit steroids were allowed to continue because, hey, more revenue for Google.

"We simply know from the documents we reviewed and witnesses we interviewed that Larry Page knew what was going on," U.S. attorney Peter Neronha told the Wall Street Journal This is known thanks, apparently, to concerned emails sent by Facebook's Sheryl Sandberg back when she worked at Google and subsequently admitted into evidence. The Feds used convicted fraudster David Whitaker to sting Google. "He walked Google executives through the illegal parts of the websites," said the WSJ. "He said he told ad executives that U.S. Customs had seized shipments, for example, and that one client wanted to be 'the biggest steroid dealer in the United States.'"
Google ended up settling for close to $500 million federal charges it knowingly assisted narcotics trafficking. Meanwhile, the company began requiring ordinary everyday users give their real legal names and other personal information in order to use its Google Plus social network and advanced features of Google's flagship search engine. It insists it needs the private data – backed up in some cases by scanned government documents – from users in order to "hold them accountable." If you think for a second that Google wants anyone's private information so it can hold them accountable, I've got some magic red pills to sell you. No prescription needed!
And
Just
When
Ya All
Thought
It
Was
Safe
To
Go
Back
Into
The
Water.
Oh
Da Fuck
No!
My. My. My.
LORD

Have Mercy.
Now.
Onto
The
American
2016
Presidential Election.
Oooooooop's. Wrong Pic.
Oooooooooh.
Mamma

.
Let's Throw One Back For Our Next '
Prez

'.